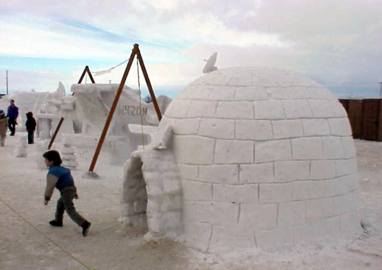 Building a New Neighborhood in Maine
A few weeks ago, one of my friends in Texas saw where I had been Live Blogging the blizzard that hit here in Maine. I told him to hold on to his hat because he
ain't seen nothin' yet
. We are about to get slammed with the coldest weather we've had so far this winter. Before today, we had seen temperatures in the single digits with the lowest I have seen at 1 (one) degree a few days ago. Currently, it's snow at a rate of about an inch an hour and we are expected to get about 10 inches here in Augusta. I am expecting closer to 15 inches based on what I see right now and past experience. We shall see what we shall see. Below you'll see the weather forecast for Irving, Texas (my hometown) and Augusta, Maine (where I live now).
Irving, TX (75060) Weather
Today
Tonight
Tomorrow
Partly Cloudy
Mostly Sunny
Clear
Mostly Sunny
23°F
47°
32°
56°
Feels Like: 23°

High
Low
High
Past 24-hr:
Precip: 0 in
Snow: 0 in
Chance of Precip:
10%
Chance of Precip:
0%
Chance of Precip:
10%
Wind:
Calm
Wind:
SE at 8 mph
Wind:
S at 5 mph
Wind:
SW at 8 mph
| | | | | |
| --- | --- | --- | --- | --- |
| Today Jan 21 | Sat 22 | Sun 23 | Mon 24 | Tue 25 |
Heavy Snow
Mostly Sunny
Partly Cloudy
Sunny
Few Snow Showers
22°F
17°
8°
6°
15°
High
High
High
High
High
5°
-1°
-14°
-11°
7°
Low
Low
Low
Low
Low
Chance of Snow:
100%
Chance of Precip:
0%
Chance of Precip:
20%
Chance of Precip:
0%
Chance of Snow:
30%
Notice any difference? To all my friends and family in Texas: I love you all with all my heart, but please
quit bitchin' about how cold it is down there!
:) Seriously, the average temps for Augusta for this time of year are something like 25 for the high and 9 for the low, so what we'll be getting for a few days is cold even for up here. I'll keep you posted on what goes on with the weather over the next few days as we graciously accept the weather that our neighbors to the North in Canada have been so kind to send us. Eh? Hosers. :)
Because Toby said so.
UPDATE:
The intensity of the snow picked up shortly after I posted this article. It's now snowing at about 2-3 inches per hour. That's gettin' busy. It would be a blizzard but the wind is not b;owing hard enough, but it's blowing enough to reduce visibility to around 150 yards. Here's an idea of what I am talking about. At 9:00 this morning I had to run a quick errand. Before leaving I brushed off 6 inches of snow off the car. I just had to make a quick run to the dumpstaer and I had to brush off
another 6 inches of snow
off the car. Do the math. We are getting a good nor'easter as we speak and the snow is supposed to fall until at least 7:00 tonight. The current weather shows a temperature of 16 degrees with the Chill Factor at
minus 3.
I'll be updating again some time later this afternoon, I hope, and maybe I'll have some pictures to post
UPDATE 2
: I just received this infi from one of our Canadian readers. It's astounding!
Anonymous said...

*Ahem* http://www.winnipegweather.com/ Temperature: -24.6°C Wind Chill: -40 Wind: SSE 33 km/h Humidity: 69 % Dewpoint: -28.7°C Pressure: 101.6 kPa Tendency: falling Air Quality Health Index: 2 Visibility: 3 km
Minus 24.6 C = minus 78.28 F
Minus 40 C = minus 104 F
Now
that's
cold! Thanks for the comment Anonymous!
UPDATE 3:
The snow is tapering off now and will out of here in an hour or so. My best estimate is that we got from 15- 18 inches, a pretty good snowfall. Thanks to Anonymous for the Canadian Weather Report and thanks to all of you for living through this storm with me. :)